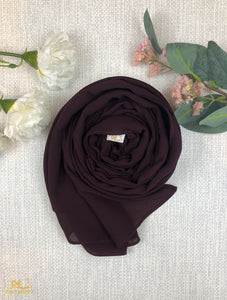 Chiffon Basics!
Luxurious Saudi Chiffon scarves available in four different sizes so you can choose whichever suits you best!
You'll fall in love with hijab all over again with our flowy, breathable material and high quality finishing.

Niqab and Bandana available click here to customize your own set!

MORE INFORMATION:
 Material

-Luxurious Saudi Chiffon.
-Soft, breathable and lightweight.
-Will keep you cool during summer 

Transparency

-Dark colors are not transparent.
-Light colors might be slightly see through.

Color

Kindly note that colors in pictures can be slightly different in reality due to the different lighting.

Care instructions:

-Machine wash on a delicate cycle.
-Air dry in the shade away from direct sunlight.